May 8, 2017
Innovation: Communications Are as Available as a View of the Sky – A Kymeta Perspective
by Bill Marks, Chief Commercial Officer, Kymeta
Today, connectivity is an invaluable commodity that has made the world smaller and smarter—people and businesses have immediate access to information, news, data, entertainment, communications and more.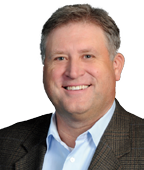 Yet for all the advancement and innovation high-speed broadband has introduced, there are still several barriers obstructing the path to a truly connected world.
Half of the world remains disconnected from the Internet, while demand for connectivity in the other half is skyrocketing and will continue to do so. Within the next 15 years, there will be a projected 30 billion connected devices on this planet.
The only option for meeting this increased demand for bandwidth is to go to space. Satellite connectivity has the footprint and potential to provide ubiquitous, worldwide coverage—but current satellite solutions offer impossibly expensive services that are complicated to understand and buy, bulky equipment and high-maintenance hardware that renders satellite largely inaccessible for many industries.
Mobility is Key
The world has an insatiable hunger for more data, especially while on the move.
As satellite solutions become more viable and accepted, the industry is ripe for disruption and on the verge of dramatic change. Today, large investments are being made to increase the number and distribution of satellites in space to address the coverage and capacity constraints of terrestrial networks as data demand escalates. The result will be a stronger, more available wireless network from space.
However, mobility continues to be a major roadblock for many satellite connectivity solutions. The parabolic dish antennas used today are expensive, large, have mechanical parts that break and are difficult to set up. They are also impossible to install on smaller, mobile platforms like cars or even trains, construction equipment or luxury coaches for example.
Currently, there are dishes on houses with amazingly high throughput (hundreds of HD channels at gigabits per second), but those dishes are stationary. The dish cannot move, and the installation of the dish or any maintenance work requires the presence of an onsite technician.
At the same time, most vehicles today have a shark fin antenna for satellite radio, which is mobile, but can only receive around 256 Kbits of data or less. Plus, these antennas can only receive data and lack the ability to transmit out.
Eliminating the Headaches
Consumers want a safe, secure, easy-to-use and seamless transportation experience. However, many industries have failed to integrate a reliable connectivity solution to meet these demands on a global scale—until now.
Connected. Anywhere.
Many parts of the world—even areas just outside major metropolitan centers, remain disconnected, and building out new terrestrial infrastructure would take billions of dollars and decades to implement. However, with satellites, vehicles can maintain connectivity regardless of cell tower ranges or international boundaries.
Read more at SatMagazine